For many, Fiji represents an opportunity to experience a holiday on an exotic island or resort far from the madding city life, while making the most of the excellent climate and outdoors leisure pursuits. For others who live and work in Fiji, the country provides exciting opportunities.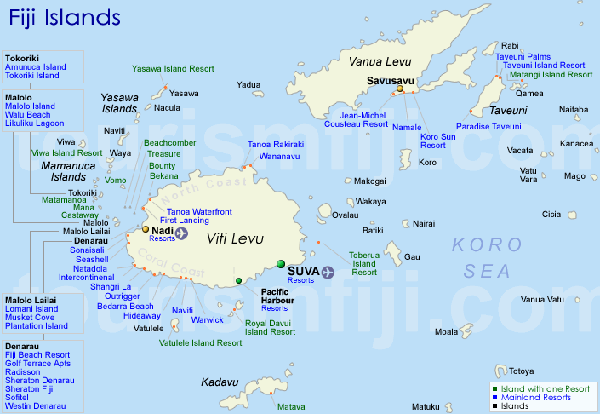 The spirit of Best Fiji Guide is encapsulated in the music song "We Are Fiji" that was put together by Daniel Rae Costello to celebrate Fiji's win in the Rugby Seven's World Cup in 1997 and 2005. Go Fiji!!
"Bula!" or "Welcome!" is the all-purpose greeting you will most commonly hear throughout Fiji. Bula means 'live', and is also commonly used as a greeting, 'hello', 'pleased to meet you'. 'Bula' comes as an unreserved invitation to enjoy the hospitality of the Fijian people. Whether exploring Fiji's towns and cities, or staying on one of the country's many resort islands, the visitor will encounter this legendary hospitality at every turn. To reply, simply say, 'io, bula!' 
Fiji began to develop a tourism industry in the early 1970's. The very first resort was the Korolevu Beach Resort on the Coral Coast, about an hour's drive from Suva along very dusty roads. Not unlike Singapore, Fiji was developing as a regional tourism 'hub', being at the geographical centre of the South Pacific. Long-haul flights from Australia to North America had to stop over at Nadi for refueling.
Now hotels and resorts have sprung up all along the Coral Coast from Deuba to Sigatoka and at hot spots out of Nadi, Lautoka, Ba and Raki Raki. Resorts have also been built in the North Western Mamanuca and Yasawa islands, which arc north like a stingray's tail from the body of Fiji's main island, Viti Levu.
Hotels and resorts offer water sports and action-packed day-long tours from the mainland to remote villages. And beyond the sun filled beaches and warm water, Fiji's underwater scenery is spectacular and some of the finest, and most accessible dives in the Pacific can be found here.
Apart from tourism, sugar processing, forest, mineral, garment, and fishing industries, Government has dedicated Fiji to being an educated and knowledge based nation. Government is investing an unprecedented amount in education – investing in Fijians, investing in the youth for Fiji, for our future primary and tertiary education is now completely free. More and more students and adults living in rural areas have access to the internet and mobile phones. More Fijians are connected directly to the rest of the world than ever before. Government is focused on and being held accountable on providing Fijians with the services they're entitled to. Read Prime Minister Bainimarama's 2014 New Year Message to the nation here.
Best Fiji Guide is edited by Dr. Mike Gosling, a fourth generation Fijian citizen. My aim is to provide residents and visitors to Fiji with a wide variety of experiences so you can taste the essence of what it means to be Fijian and enjoy your time in Fiji to the fullest. To start you off, why not listen to my Favourite Fiji Songs to get you in the mood! Learn more about Fiji Land of our Fathers.
I'm an Executive Coach at MikeGosling.com. My wife, Karen Gosling, and I teach couples how to make their relationship work. Join us at RelationshipsMe.com.
In 1997 whilst living in Singapore, I stumbled upon the Internet. That event changed my life and I committed to bringing the Best of Fiji to people worldwide. Read more about the site or contact me. Connect with me on Facebook, Twitter, LinkedIn and Fiji. Land of our Fathers.