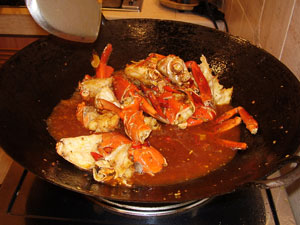 Country: Singapore
I arrived in Singapore on 31 March 1997 to work as Visiting Lecturer in financial management and entrepreneurial studies at Ngee Ann Polytechnic. I went on to live there for 12 years and loved it, running our own counselling and coaching practice, Gosling International.
I was often out at the local hawker centers in search of the food that Singapore is famous for. Top on my list, after Sambal prawns, was Chilli Crab. Here is my signature dish!
Ingredients
2-3 crabs (large mud crabs if you can get them)
2-3 red chillies
2 cm fresh ginger
2 cloves garlic
3-4 coriander roots
1 egg, whipped
2 tablespoons oil
oil for deep frying
Gravy – Mix Well
1 rice bowl chicken stock
1 teaspoon salt
3 tablespoons tomato sauce
1/2 tablespoon brown sugar
1/2 tablespoon chilli sauce
1/2 tablespoon white vinegar
1 teaspoon sesame oil
Method
Chop the live crabs (see Mike's Tip), clean and chop into pieces. Discard shells and legs (unless you want to add everything – not for me!).
Drain and dry the crab pieces. This is to reduce "spitting" when you drop the crab pieces into hot oil for deep frying.
Chop the ginger, garlic, coriander roots, and red chillies.
Deep fry the crab pieces for 2-3 minutes. Set aside. As with all seafood, it's important not to overcook the crab.
Heat 2 tablespoons of oil in a wok. Stir-fry ginger, garlic, coriander roots , and chilli mixture. Return the fried crab to the wok. Stir-fry for 1 minute.
Add the gravy mixture. Stir and simmer for 2 minutes.
Thicken with cornflour paste. Add whipped egg. Stir.
Serve with fresh coriander leaves.
Mike's Tip
To kill the tied crab, lie it on its back. Pull back the flap and hold the crab firm with the tip of a chopstick. Place a large metal cleaver across the middle of the crab and chop through. This method is better than placing the crab in boiling water to kill it as the meat remains uncooked until you are ready to fry it.