Country: Sri Lanka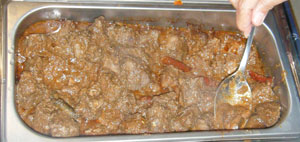 I believe that eating and sharing food with friends is a very emotional experience. In 1988 my wife, Karen Gosling, was Senior Medical Social Worker, Gold Coast Hospital, Gold Coast, Queensland, Australia.
At the time we owned and operated the "Pineridge Hot-Food Takeaways" shop at Coombabah on the Gold Coast, Queensland. We served fish & chips, BBQ chickens, hamburgers, steak sandwiches, and Mike's famous home-made pies, with recipes learned from James Elliott. Over the three years that we had the shop, I must have cooked over 15,000 pies of six varieties.
Maria had been visiting the Gold Coast from Melbourne looking for property. She had been involved in a car accident and became hospitalized with a badly broken leg that was strung-up in her hospital bed in the orthopedic ward. She was unable to be transferred. Monty to the rescue — with delicacies to keep Maria's spirits high.
Monty and their 3 children arrived in Southport to support Maria. He and the children stayed at the Red Cross visitors' quarters at the Gold Coast Hospital.
Maria was from Italy and Monty from Sri Lanka. Imagine the wide food choices in their household. Monty cooked for the family. Towards the end of their long stay on the Gold Coast, and with Maria recovered, Monty presented Karen with this wonderful dish of Sri Lankan Lamb Vindaloo as a thank you for the social work care Karen had given to Maria. It is a very special and delicate dish for me, with lots of emotion attached to it, given the new friendships we made. It's sure to get the cook many compliments. Thank you Monty!
Ingredients
500 gms tender lean chopped lamb (or beef)
4 teaspoons curry powder
1 teaspoon chilli powder (or to taste)
chilli pieces (if desired)
curry leaves (if available)
2 cinnamon sticks
1/2 cup white vinegar
1/2 – 1 tablespoon tomato paste (to taste)
1 lge brown onion
5 pieces of garlic
2.5 cm piece of fresh ginger<
1 teaspoon salt
1 tablespoon vegetable oil (or ghee)
2 cups water
Curry Powder
This dish is best cooked with Ceylon Marketing Department curry powder. This is a dark, almost black, curry powder and is difficult to find in most places. Other meat curry powders can be used.
Method
Cut the lamb into chunky pieces. Place in a bowl with 1/2 cup vinegar. Put aside to soak for up to an hour (I like to leave my lamb soak overnight).
Chop together the fresh garlic and ginger. Peel and slice the onion. Fry the garlic and ginger in 1 tablespoon of vegetable oil (I use ghee for the added flavour) until the garlic starts to turn brown. Add the chopped onion and fry until golden brown.
Next add your meat with vinegar and fry at moderate heat until the vinegar is virtually gone (about 20-30 minutes).
Add the tomato paste and stir. Add the chilli powder, chilli pieces, curry leaves, cinnamon sticks, and 1 cup of water. Let the meat and ingredients cook for 15 minutes. Add the salt and curry powder. Stir and add up to 1 cup of additional water. Turn the cooker to low heat and cook until ready (about an additional 15 minutes).
Serve with rice, pappadums, and shredded cucumber and yoghurt salad.
Mike's Tip
Vindaloo is a sour Indian dish flavored with vinegar and hot indigenous spices. Lamb is a tender meat and needs to be cooked slowly. I like to add fresh mint leaves to Monty's Sri Lankan Lamb Vindaloo straight after cooking.
As always, you are welcome to leave your comments below.