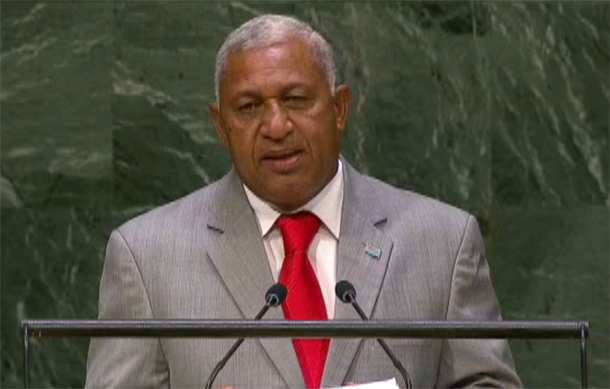 Fiji's Prime Minister Hon. Voreqe Bainimarama met with the UN Secretary General Ban Ki-moon at the United Nations on Friday 26 September, 2014 . The Secretary General warmly congratulated Fiji's Prime Minister for the successful completion of the recent Fiji general elections, and for Fiji's people choosing him to lead the nation.
Mr. Ban congratulated Fiji for the free, fair, and democratic manner in which the elections were conducted.
Mr Bainimarama said:
Mr President, Five years ago I stood in this great chamber and promised the global community that my Government would introduce the first genuine democracy in Fiji's history before the end of September 2014. It is my honor to inform you that with the support of the Fijian people, I have kept that promise and I return here today as the duly elected Prime Minister of the Republic of Fiji … Our vision is to cement our place as a pre-eminent Pacific Island nation, a true regional hub and a beacon of prosperity and progress for our smaller neighbors. And we intend to play a bigger role in the wider world to voice our collective concerns about such issues as the environment, climate change and the need to create a fairer trading system to benefit our people in the Pacific and in all developing countries.

I pledge again that I will govern for the benefit of all our citizens, no matter who they are, where they come from or who they voted for. Mine will be an inclusive Government over the next four years. I will be the leader of all Fijians, for all Fijians. And as we move our beloved nation forward, I am determined to leave no-one behind.
In that spirit, I extend a hand of friendship to my political opponents. Whatever our differences, let us work together constructively in our new Parliament – when it convenes on October 6th – to improve the lives of every Fijian.
See full text of Prime Minister Bainimarama's address here.
PM Bainimarama at UN General Assembly 2014 – Statement by His Excellency Rear Admiral (Ret) Josaia Bainimarama, Prime Minister of the Republic of Fiji at the general debate of the 69th Session of the General Assembly of the United Nations – 27 September, 2014.