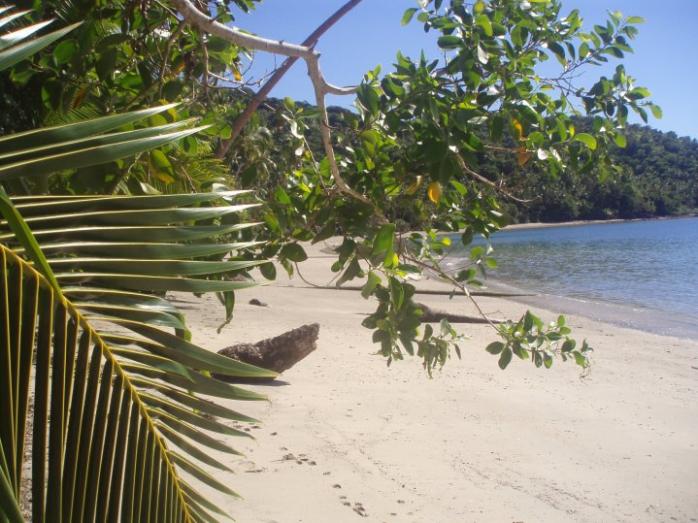 Imagine: a white sandy beach, palm trees, a light ocean breeze, you in a hammock. no roads, no discos, no noise – pure nature, indulgence and one of the top dive sites in the world. You found magic!
Dolphin Bay Divers Retreat is located on a former coconut plantation in a small bay surrounded by a white sandy beach and rainforest. We are on Vanua Levu, just off Taveuni which has the advantage of being mere minutes away from all the dives sites on Fiji's Rainbow Reef. Not a resort – an informal retreat, limited to a small number of guests. 4 bure and 4 Jungle Tents only. We have our own micro climate with very little rain and try to make as small a footprint as possible; our water comes from rainwater collection which is filtered for drinking water, power is a mixture between solar and generator with romantic tiki torches and lanterns in the evening to light your way home.
Enjoy Fiji's Hospitality and wide smiles, its wild beauty yet affordable comfort. Watch the sun rise over the Somosomo Strait in the mornings from your ocean front accommodation. Choose between a cozy bamboo Bure and a homely Jungle Tent, something for every budget.
Wander to the dive shop after breakfast to explore the soft coral capital of the world. Our dive shop has everything you may need and if you are not diving yet, give this adventure a try with our experienced instructors.
There are numerous things to do if you still have the energy after diving, including getting pampered in our Matasawa beach SPA.
Enjoy sumptuous meals made from scratch with fresh local ingredients every day in our al fresco setting. Candle light dinner on the beach or a drink from the bar …..
You found Magic – where the most difficult decision is where to nap: bed, beach or hammock?