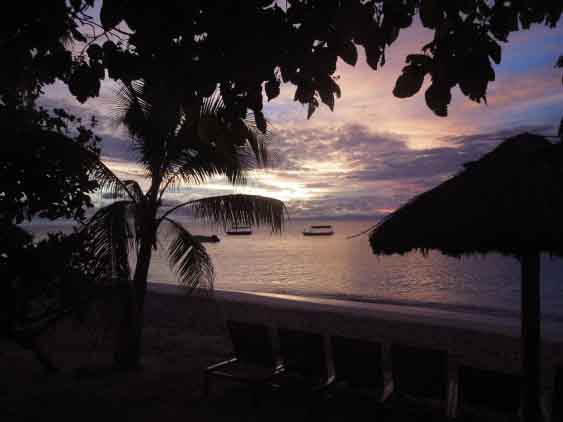 By Sandra Thomas.
It can be hard to impress a group of travel writers, but that's exactly what happened recently on a trip to Fiji when during an excursion our dive captain pulled out an exact replica of "Wilson" the volleyball made famous in the 2000 movie Cast Away, starring Tom Hanks.
Of course, the fact we were exploring the tiny island of Mondriki on which the movie was filmed made our reaction to Wilson that much more enthusiastic and we each took turns posing for selfies with what is likely the most iconic volleyball in history. (The fact several of us were also drinking Champagne may have added to the excitement.)
The tour was organized by our nearby resort, Castaway Island, one of about 20 tiny tropical isles that make up the Mamanuca archipelago in the South Pacific off the coast of Fiji — an easy boat, helicopter or seaplane trip from Nadi, home to the international airport and Fiji Airways, which I had flown from Los Angeles just days before.
Once we landed at what locals now refer to as "Tom Hanks Island," we disembarked from our speedboat, the Teivovo, and splashed through warm ocean water a cerulean blue I'd previously only seen in movies. The island is so remote and deserted it was easy to imagine we were actually stranded on this tiny tropical oasis — complete with coconut trees and a ready-made "HELP ME" sign crudely arranged from small stones.
Following exploration and a swim we piled back in the boat and headed to a spot, which to the untrained eye appeared to simply be located in the middle of the ocean, but where our dive captain Aku assured us the snorkelling would be exceptional. A bum knee kept me out of the water so I was forced to drink more Champagne and catch some sun onboard the Teivovo, while my fellow travel writers donned masks and flippers to explore the coral reef below.
Back at Castaway Island, we each headed to our individual beachfront bure (cottage) to wash away the day's salt water before heading out for drinks and dinner.
Outside my bure was a small galvanized tub filled with water and fresh flowers where I could wash the sand from my feet before entering — it's the simple things that make a difference. Besides their oceanfront location, each bure also has a thatched roof and vaulted ceiling lined with tapa (bark) cloth, adding to the tropical feel. While only 10 per cent of this Outrigger-managed resort's 174 acres is occupied, the rest of this private island provides an exotic setting ideal for exploring.
Upon our arrival the day before, we were greeted on the beach by staff members who sang a welcome song as we disembarked from the Coral Sea Cruise ferry we'd taken from Nadi.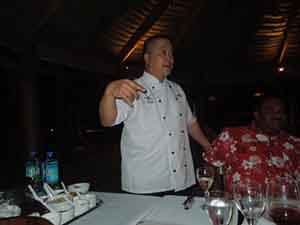 That afternoon we were treated to a cooking demonstration by executive/ celebrity chef Lance Seeto, an Australian transplant recognized today as Fiji's unofficial culinary ambassador credited with pioneering food tourism across that country. Seeto, famous for his use of local ingredients, pursuit of regional flavours and interest in ancient cultures, shares that expertise on his cooking show Taste of Paradise, broadcast on Fiji TV.
Seeto was also responsible for creating the tasting menu we were treated to following our boat ride at Restaurant 1808, which last year was named best restaurant in Fiji at the AON Fiji Excellence in Tourism Awards. The restaurant is one of four on the island, which also has as many relaxed venues to enjoy a tropical drink, including a swim-up bar at the adults-only Malua Pool.
I was part of a group of travel writers invited on this trip to experience culinary and cultural highlights of Fiji and this tasting menu was definitely a showstopper from the seawater-infused pork belly to the charred lemongrass tea chicken to the green bamboo steamed fish.
During my stay, Cast Away was full of couples enjoying a romantic getaway, seniors lying by the pool and families taking advantage of the free use of snorkels, masks, fins, windsurfers, catamarans and paddle boards. The children's programming at the Castaway Kids Club is extensive with complimentary access for children aged three and older from 9 a.m. to 4:30 p.m. and 6:30 to 10 p.m., to give parents an opportunity for a quiet dinner and drink if they choose.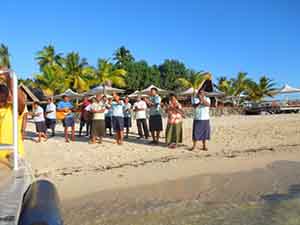 Upon our departure, Castaway staff once again gathered on the beach to see us off, singing and waving as we climbed into the skiff that would take us to our waiting ferry and it was all I could do not to throw my suitcase overboard and swim for shore. Prior to this trip Fiji had always been on my bucket list, but instead of crossing it off as accomplished, I've added a gold star beside it with plans for a return visit. Sorry, Iceland, you just got bumped.


Sandra Thomas is an award-winning writer and opinion columnist for the Vancouver Courier newspaper with a passion for travel. Article used with permission.