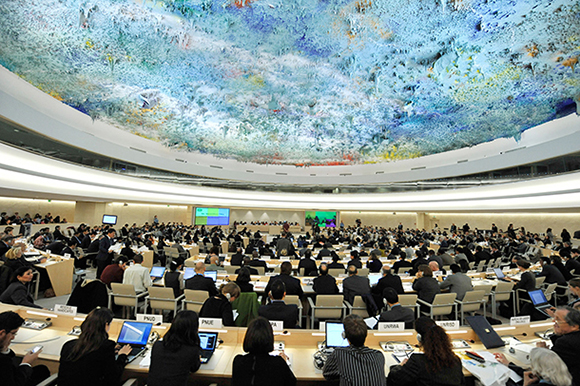 By Sally Round of Radio New Zealand International, WELLINGTON.
Senior judicial figures from Fiji have told a United Nations gathering in Switzerland the country is addressing concerns about police brutality.
Senior judicial figures from Fiji have told a United Nations gathering in Switzerland the country is addressing concerns about police brutality.
Fiji has been undergoing an examination of its human rights record under the United Nations Human Rights Council's Universal Periodic Review.
Fiji's Chief Justice Anthony Gates gave some frank testimony at the session at the UN's European Headquarters, saying the courts in Fiji wasted much time having to resolve whether confessions in police custody had been given voluntarily.
He said the problem was due to what he called a "cultural misconception".
A transcript from the Dateline Pacific report:
ANTHONY GATES: Torture during interrogation has been a long-standing problem in Fiji. Members of the police or prison service or others in authority have thought they had a right to impose an extra-judicial punishment on an arrested suspect or an escaped prisoner.
Justice Gates said efforts are underway to improve police interrogation procedures including training, the videotaping of interviews and a review of the Police Act next year.
Most countries speaking at the session praised Fiji for steps taken since its last human rights appraisal in 2010 including holding elections last month and bringing in a new constitution last year.
It also received bouquets including this from China on strides made in social and economic rights.
CHINA REPRESENTATIVE: Fiji is committed to the protection and promotion of various human rights such as people's economic and social and cultural rights, to the realisation of gender equality, social justice and sustainable development.
But several, including Germany, also called for the repeal of restrictive decrees.
GERMAN REPRESENTATIVE: Germany recommends bringing legislation on freedom of expression, assembly and association in line with international human rights standards in particular by repealing the Media Industry Development Decree 2010 in order to end intimidation and harassment of those that expressed criticism of the state.
The decree imposes stiff jail sentences and fines on journalists for breaking its provisions.
Ashwin Raj, who is chair of Fiji's Media Industry Development Authority (MIDA), told the forum it was in keeping with international codes of journalism ethics.
ASHWIN RAJ: I question the premise of all questions pertaining to the Media Industry Development Decree and I urge this forum to read the Media Industry Development Decree in its entirety.
Swaziland was alone in expressing concern about the ability to change the constitution, introduced controversially last year. Any amendments require a three-quarter majority in parliament and a three quarters majority in a subsequent public referendum.
SWAZILAND REPRESENTATIVE: The effect of this provision of the constitution is to make amendment very difficult. What is the rationale behind this provision especially as it is alleged by some groups in Fiji that there was no consultation before the passing of the constitution?
That was batted aside by the Minister of Justice Aiyaz Sayed-Khaiyum who said there was widespread consultation.
AIYAZ SAYED-KHAIYUM: I'd like to thank the Madam Ambassador for her question because for the first time in Fiji's history we actually have a referendum now in process which is a direct form of democracy without the need for third party intervention.
Fiji's action on violence against women received a mixed review from representatives prompting a spirited defence by Fiji's UN representative in Geneva, Nazhat Shameem.
She said Fiji has introduced laws on domestic violence, child welfare, and sexual assault to deal with a challenge faced the world over.
NAZHAT SHAMEEM: Many women find it very very hard to report gender-based violence because of institutional and social and cultural barriers therefore the biggest challenge that Fiji recognises is how to break that dark figure down and encourage reporting.
Questions over the independence of the judiciary brought this response from Fiji's Chief Justice Anthony Gates.
ANTHONY GATES: It has been insinuated that Fiji's judiciary is somehow not independent and that it's subject to the direction and control of the government. I refute that. Under the 2013 constitution, the appointment system for judicial officers is now considerably less subject to political influence or control.
Most of the of the 56 countries which spoke at the session urged Fiji to ratify without delay several international human rights conventions like the Convention Against Torture and the Convention on Civil and Political Rights.
Several also called on Fiji to allow into the country independent experts like the Special Rapporteur on Torture and to co-operate more fully on human rights procedures.
The UN noted Fiji had not responded to any of its letters of allegation and urgent appeals in relation to human rights over the last four and a half years.
Sayed-Khaiyum promised Fiji would ratify remaining conventions after approval by Fiji's new Parliament.
AIYAZ SAYED-KHAIYUM: Fiji of course has come along way since the last cycle including extensive reforms that go beyond the requirements of international instruments making us compliant even without ratification. However we do recognise that ratification also helps develop new partnerships and international co-operation and we therefore remain committed to ratify these international instruments.
Sayed- Khaiyum said Fiji has a fresh opportunity to start a new era of implementing human rights in the country based on fact and law.
Sally Round is a senior reporter with Radio New Zealand International. Republished with permission.
(Radio New Zealand International/Pacific Scoop/Pacific Media Watch)
Also posted on Croz Walsh's Blog
Universal Periodic Review Second Cycle – Fiji

This work is licensed under a Creative Commons Attribution-NonCommercial 3.0 New Zealand Licence.