"Bula!"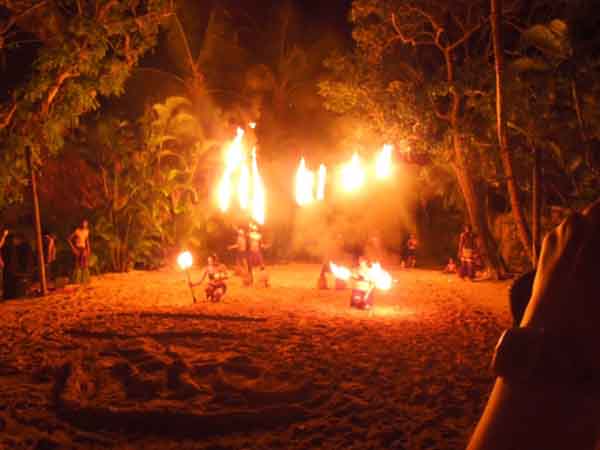 By Sandra Thomas.
From the moment I checked into my Fiji Airways flight out of Los Angeles last month to the time I waved goodbye to the friendly staff of our hotel almost a week later, I was met with that cheerful greeting from pretty much everyone I encountered in the South Pacific.
What I soon came to realize is that much like the popular Hawaiian use of "aloha spirit" to describe a state of mind or lifestyle, "bula" translates into much more than a simple hello.
Fiji overflows with Bula spirit. That Bula spirit was obvious as I checked into Outrigger on the Lagoon in May with a small group of travel writers. The Outrigger, situated in the heart of Fiji's Coral Coast, is home to 207 rooms and 47 bures (cottages) set amongst 16 hectares of coconut-tree lined gardens, which stretch along the shores of a reef-filled lagoon.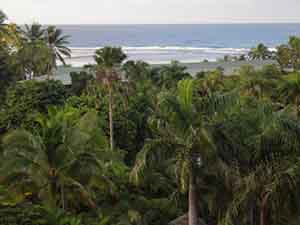 My room included the resort's trademark Talai butler service provided by 16 staff trained at the Australian Butler School. The service included the delivery of a glass of champagne and an amuse-bouche to my room each evening at 5 p.m., followed later by a cordial glass of liquor and tiny sweet, which greeted me each night after I returned from dinner.
Considering I was on a culinary and cultural tour of Fiji, that touch was much appreciated. (Though after the amount of food we ate on this trip, it certainly wasn't necessarily for survival.)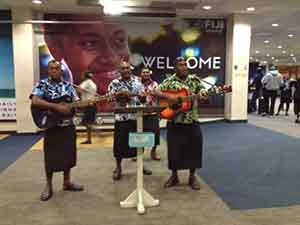 Besides the spirit of bula, I soon learned that music, which was playing not only in the lobby of the hotel as we checked in, but also at the Nadi airport as I arrived, is a constant on the islands. If I wasn't listening to a two or three-piece combo, it was a solo staff member singing as he or she went about their work.
Then there was the goodbye song, which was so beautifully sang by the staff it made me tear up even when it was being performed for strangers. It's customary at many resorts in Fiji for staff to gather round the table of departing guests at their last meal, or in the lobby as they're preparing to depart, and sing "Isa Lei," a traditional song of farewell.
But music was just one small component of our visit, which had a large focus on food. A highlight of the trip was an opportunity to enjoy a hands-on cooking class with Fiji's most-awarded chef, Shailesh Naidu. The class, which is offered once a week in Ivi Restaurant at the Outrigger, focuses on South Pacific seafood and produce.
Having cooked with various travel writers in the past, my expectations weren't exactly high, but with help from chef Naidu we actually cooked an incredibly delicious meal. On the menu this day was kumala (sweet potato) cakes, prawns baked with infused coconut milk, sautéed mustard rice with onions and curry leaves, Indo-Fijian chicken curry and banana lote (pudding) for dessert.
Following the class we shared the meal family-style, passing dishes across the table and bragging about our culinary skills.
Writers are infamous for not following directions, so kudos to Naidu and his team for not throwing us out of the kitchen for taking so long to complete our meal, despite the fact all the ingredients had already been chopped and prepped for us.
We had eaten at Ivi the night before, which is adjacent to its namesake, a 100-year-old ivi tree. The restaurant offers fine dining Fijian style with a focus on Pacific continental cuisine. It was here the classically-trained chef prepared our caesar salads and dessert tableside.
We actually ate and drank our way through the entire resort, including cocktails at Kalokalo Bar, situated on a hilltop overlooking the resort and ocean, and dinner at the Sundowner Café, where I enjoyed what the locals refer to as "bugs," which resemble small lobsters grilled on the barbecue and served with fresh lime.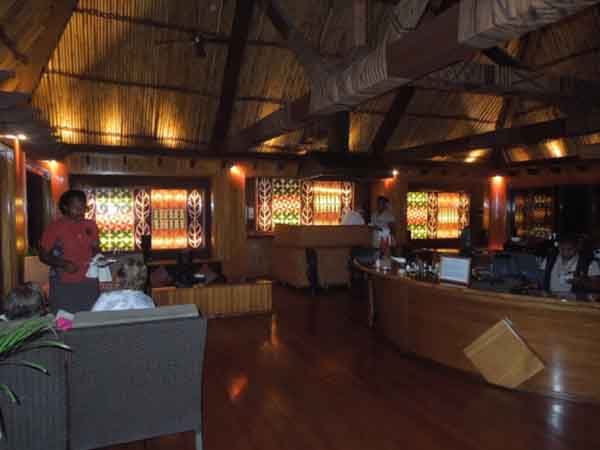 On our final evening we ate at Vale Ni Kana (Life in the Village) Restaurant, where we chose from a fresh seafood buffet adorned with heaping platters of prawns, oysters and catch-of-the-day fish followed by a fire dancing performance in the adjacent outdoor show area.
It was during this last meal when staff gathered around our table to sing "Isa Lei" and wish us safe travels. Fijians are famous for making visitors feel like family and the people I met on this journey were no exception. So as staff waved goodbye to us for the final time, it was obvious even the most jaded writers in my group were moved and our bula just a little sadder.
Getting there: I flew Fiji Airways out of Los Angeles., which can be accessed via Vancouver or Bellingham. During a search this week I found seat sales for as little as $99 each way from YVR to LAX. Fiji Airways also offers inter-island flights on its newly restructured Fiji Link service to locations such as Cicia, Taveuni and Vanuabalavu.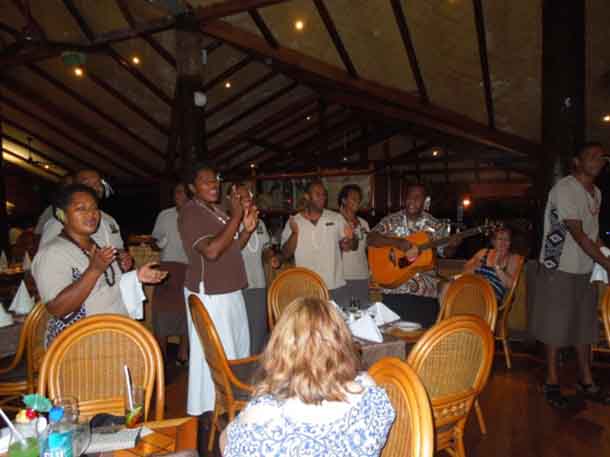 Sandra Thomas is an award-winning writer and opinion columnist for the Vancouver Courier newspaper with a passion for travel. Article used with permission.